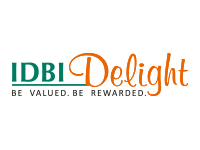 IDBI Delight
About IDBI Delight:
IDBI
ABOUT IDBI Delight
IDBI Delight is IDBI Bank's Credit Card loyalty Program. Through this program, we reward you whenever you choose to buy a product or pay for a service using your IDBI Credit Cards. IDBI Delight is our endeavour to strengthen our bond of friendship by adding joy, excitement & value to the banking experience of our customers. As an IDBI Bank Credit Card holder, you earn Delight Points every time you use your Credit Card for in-store buys and online purchases.
Association with Max Get More
Max Get More offers the best value for every rupee spent by customers. Customers have the privilege of earning Extra Delight Points for every Rs.100 spent using the IDBI Bank Credit Card at Max Get More partner outlets. Customers are also entitled to get special deals and discounts at these outlets.
Another Max Get More advantage is the option of redeeming accumulated Delight Points at partner outlets. This in-store redemption option enables real-time redemption of reward points giving customers the free shopping experience.
For easy redemption and to see nearby Max Get More partner outlets on your mobile device, download the Max Get More app from Google Play Store now.
About IDBI Bank
IDBI Bank is the youngest, new generation, public sector universal bank that rides on a cutting edge core banking Information Technology platform. This enables the Bank to offer personalized banking and financial solutions to its clients. The Bank's vision is to be 'The most preferred and trusted Bank enhancing value for all stakeholders.'
The Bank offers personalized banking and financial solutions to its clients in the retail and corporate banking arena through its large network of Branches and ATMs, spread across the length and breadth of India. The Bank has also set up an overseas branch at Dubai and has plans to open representative offices in various other parts of the Globe, for tapping emerging global opportunities.