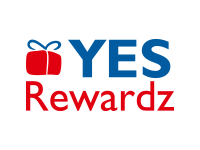 YES Rewardz
About YES Rewardz:
About YES REWARDZ
At YES BANK, we believe that you are special, and you deserve more for the trust and faith you have in us. We bring to you YES Rewardz, a loyalty program launched exclusively for YES BANK Debit Card customers. Now you can earn YES Points every time you use your YES BANK Debit Card for purchases and bill payments.
YES Points that you accumulate in your YES Rewardz account can be redeemed for merchandise, ticket bookings, recharge and many other exciting options on www.YESRewardz.com
Association with Max Get More
Max Get More offers the best value for every rupee spent by customers. Customers have the privilege of earning Extra YES Points for every Rs.100 spent using the YES BANK Debit Card at Max Get More partner outlets. Customers are also entitled to get special deals and discounts at these outlets.
Another Max Get More advantage is the option of redeeming accumulated YES Points at partner outlets. This in-store redemption option enables real-time redemption of reward points giving customers the free shopping experience.
For easy redemption and to see nearby Max Get More partner outlets on your mobile device, download the Max Get More app from Google Play Store now.
About YES BANK
YES BANK, India's fourth largest private sector Bank, is the outcome of the professional & entrepreneurial commitment, vision & strategy of its Founder and its top management team, to establish a high quality, customer centric, service driven, private Indian Bank catering to the Future Businesses of India.
Since its inception in 2004, YES BANK has fructified into a 'Full Service Commercial Bank' that has steadily built Corporate and Institutional Banking, Financial Markets, Investment Banking, Corporate Finance, Branch Banking, Business and Transaction Banking, and Wealth Management business lines across the country, and is well equipped to offer a range of products and services to corporate and retail customers.
YES BANK has adopted international best practices, the highest standards of service quality and operational excellence, and offers comprehensive banking and financial solutions to all its valued customers. Today, YES BANK has a widespread branch network of over 572 branches across 375 cities, with 1170+ ATMs and 2 National Operating Centres in Mumbai and Gurgaon.