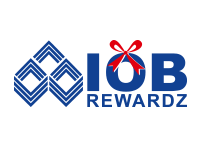 IOB Rewardz
About IOB Rewardz:
About IOB Rewardz
At Indian Overseas Bank, we put the interest of our customers at the forefront and greatly value the faith that they have in us for their banking needs. The IOB Rewardz program allows its members to earn IOB Reward points on all transactions made with their Indian Overseas Bank Debit Cards.
Association with Max Get More
Max Get More offers the best value for every rupee spent by customers. Customers have the privilege of earning Extra IOB Reward Points for every Rs.100 spent using the Indian Overseas Bank Debit Card at Max Get More partner outlets. Customers are also entitled to get special deals and discounts at these outlets.
Another Max Get More advantage is the option of redeeming accumulated IOB Reward Points at partner outlets. This in-store redemption option enables real-time redemption of reward points giving customers the free shopping experience.
For easy redemption and to see nearby Max Get More partner outlets on your mobile device, download the Max Get More app from Google Play Store or visit www.iobrewardz.com 
About Indian Overseas Bank
Indian Overseas Bank (IOB) was founded on February 10th 1937, by Shri.M.Ct.M. Chidambaram Chettyar, a pioneer in many fields - Banking, Insurance and Industry with the twin objectives of specialising in foreign exchange business and overseas banking. IOB had the unique distinction of commencing business on 10th February 1937 (on the inaugural day itself) in three branches simultaneously - at Karaikudi and Chennai in India and Rangoon in Burma (presently Myanmar) followed by a branch in Penang. In 1964, the Bank made a beginning in computerisation in the areas of inter-branch reconciliation and provident fund accounts. In 1968, IOB established a full-fledged department to cater exclusively to the needs of the Agriculture sector. IOB was one of the 14 major banks that was nationalised in 1969.
During 1999, IOB started tapping the potential of internet by enabling ABB card holders in Delhi to pay their telephone bills by just logging on to MTNL web site and by authorising the Bank to debit towards the telephone bills.