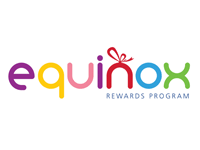 Equitas
About Equitas:
About Equinox Rewards
Equitas introduced Equinox to give you added benefits of banking with us. For every transaction made with the Equitas Bank Debit Card, you earn points. These points can in turn be used to get gifts, discounts, offers and much more with the rewards program. This program is a one-stop solution for all your spending needs. Use your Equitas Bank Debit Card for shopping, dining and paying bills to gain maximum Equinox Points. Equinox Points can be redeemed across a vast catalogue of products and booking services. All Equitas Bank customers are auto-enrolled into the rewards program.
Association with Max Get More
Max Get More offers the best value for every rupee spent by customers. Customers have the privilege of earning Extra Equinox Points for every Rs.100 spent using the Equitas Bank Debit Card at Max Get More partner outlets. Customers are also entitled to get special deals and discounts at these outlets.
Another Max Get More advantage is the option of redeeming accumulated Equinox Points at partner outlets. This in-store redemption option enables real-time redemption of reward points giving customers the free shopping experience.
For easy redemption and to see nearby Max Get More partner outlets on your mobile device, download the Max Get More app from Google Play Store now.
About Equitas Bank
Equitas Small Finance Bank is a new-age bank that gives children, youth, families and businessmen across India a new and fun way to bank. In their time as a micro finance company, they silently went about enabling livelihoods and elevating lives. Today, as a small finance bank, they are also working towards changing the way banking is imagined, delivered and experienced – with FUN being the key driver.