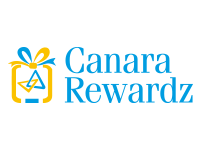 Canara Rewardz
About Canara Rewardz:
About Canara Rewardz
Canara Rewardz is Canara Bank's Debit & Credit Card loyalty program designed to reward customers for choosing to pay for products & services with Canara Bank Debit/Credit Cards. Canara Rewardz delivers the promise of an ultimate shopping experience to its customers.
Association with Max Get More
Max Get More offers the best value for every rupee spent by customers. Customers have the privilege of earning Extra Reward Points for every Rs.100 spent using the Canara Bank Debit/Credit Card at Max Get More partner outlets. Customers are also entitled to get special deals and discounts at these outlets.
Another Max Get More advantage is the option of redeeming accumulated Reward Points at partner outlets. This in-store redemption option enables real-time redemption of reward points giving customers the free shopping experience.
For easy redemption and to see nearby Max Get More partner outlets on your mobile device, download the Max Get More app from Google Play Store now.
About Canara Bank
Canara Bank was founded in July 1906 and is widely known for its customer-centricity. The Bank has gone through the various phases of its growth trajectory over hundred years of its existence. Growth of Canara Bank was phenomenal, especially after nationalization in the year 1969, attaining the status of a national level player in terms of geographical reach and clientele segments. Today, Canara Bank occupies a premier position in the comity of Indian banks. With an unbroken record of profits since its inception, Canara Bank has several firsts to its credit.
Over the years, the Bank has been scaling up its market position to emerge as a major 'Financial Conglomerate.' Believing that the next century is going to be equally rewarding and eventful not only in service of the nation but also in helping the Bank emerge as a 'Preferred Bank', Canara Bank is pursuing global benchmarks in profitability, operational efficiency, asset quality, risk management and expanding its global reach.