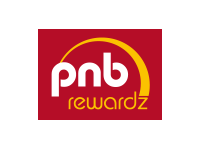 PNB CC
About PNB CC:
About PNB Rewardz
PNB Rewardz is the loyalty program launched for Punjab National Bank Credit Card customers. A loyalty program designed to convey that customers are special. Through this program, Punjab National Bank will reward their customers for using PNB Credit Card for shopping, dining, & paying bills, etc. 
Association with Max Get More
Max Get More offers the best value for every rupee spent by customers. Customers have the privilege of earning Extra Reward Points for every Rs.100 spent using the Punjab National Bank Credit Card at Max Get More partner outlets. Customers are also entitled to get special deals and discounts at these outlets.
Another Max Get More advantage is the option of redeeming accumulated Reward Points at partner outlets. This in-store redemption option enables real-time redemption of reward points giving customers the free shopping experience.
For easy redemption and to see nearby Max Get More partner outlets on your mobile device, download the Max Get More app from Google Play Store now.
About Punjab National Bank
With over 60 million satisfied customers and more than 5100 offices including 5 overseas branches, Punjab National Bank has continued to retain its leadership position amongst the nationalized banks. The bank enjoys strong fundamentals, large franchise value and good brand image. Besides being ranked as one of India's top service brands, PNB has remained fully committed to its guiding principles of sound and prudent banking. Apart from offering banking products, the bank has also entered the credit card, debit card; bullion business; life and non-life insurance; Gold coins & asset management business, etc. PNB has earned many awards and accolades during the year in appreciation of excellence in services, Corporate Social Responsibility (CSR) practices, transparent governance structure, best use of technology and good human resource management.