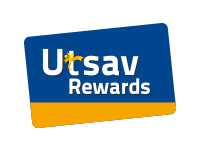 Federal Bank
About Federal Bank:
About Utsav Rewards
At Federal Bank, we believe that you are special and you deserve more for the trust and faith you have in us. With Utsav Rewards, our Debit Card loyalty program, we reward you whenever you choose to buy product or service using Federal Bank Debit Card. You get 1 Reward Point for every Rs.100 spent. Utsav Rewards is our way showing gratitude to you for the trust and faith in us.
Association with Max Get More
Max Get More offers the best value for every rupee spent by customers. Customers have the privilege of earning Extra Reward Points for every Rs.100 spent using the Federal Bank Debit Card at Max Get More partner outlets. Customers are also entitled to get special deals and discounts at these outlets.
Another Max Get More advantage is the option of redeeming accumulated Reward Points at partner outlets. This in-store redemption option enables real-time redemption of reward points giving customers the free shopping experience.
For easy redemption and to see nearby Max Get More partner outlets on your mobile device, visit www.utsavrewards.com 
About Federal Bank
The history of Federal Bank dates back to the pre-independence era. Though initially it was known as the Travancore Federal Bank, it gradually transformed into a full-fledged bank under the able leadership of its Founder, Mr. K P Hormis. The name Federal Bank Limited was officially announced in the year 1947 with its headquarters nestled on the banks on the river Periyar. Since then there has been no looking back and the bank has become one of the strongest and most stable banks in the country.