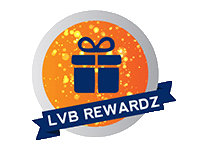 LVB
About LVB:
About LVB Rewardz
LVB Rewardz is Lakshmi Vilas Bank's Debit Card loyalty program to give its customers a rewarding banking experience. Lakshmi Vilas Bank customers get rewarded every time they pay for purchases with their Lakshmi Vilas Bank Debit Card. Use your debit card to buy shopping, pay utility or dining bills and more and you earn 1 LVB Point for every Rs.100 spent. LVB Points accumulate with each debit card purchase and you can use them to get products and services across a variety of categories for free. 

Choose from merchandise such as electronics, apparel, personal care and kitchenware or services such as mobile/DTH recharge, bus ticket, movie tickets, flight tickets and hotel stay. LVB Points can also be redeemed at Max Get More partner stores.
Association with Max Get More
Max Get More offers the best value for every rupee spent by customers. Customers have the privilege of earning Extra LVB Points for every Rs.100 spent using the Lakshmi Vilas Bank Debit Card at Max Get More partner outlets. Customers are also entitled to get special deals and discounts at these outlets.
Another Max Get More advantage is the option of redeeming accumulated LVB Points at partner outlets. This in-store redemption option enables real-time redemption of reward points giving customers the free shopping experience.
For easy redemption and to see nearby Max Get More partner outlets on your mobile device, download the Max Get More app from Google Play Store now.
About Lakshmi Vilas Bank
Lakshmi Vilas Bank was founded in 1926 by a group of seven businessmen of Karur under the leadership of Shri V.S.N. Ramalinga Chettiar. Their objective was to cater to the financial needs of the people in and around Karur.
Over the years, the bank has grown to spread over a network of 460 branches (plus 7 extension counters) with pan India presence, supervised by 11 Regional Offices. Its extensive branch network (60%) in Tamil Nadu provides a solid market base of business and customers. The bank is active across the entire spectrum of customer segments - retail, mid-market and corporate. Further taking part in all the Government initiated financial inclusion plans. Lakshmi Vilas Bank offers a host of para-banking products in association with Life and General Insurance companies, mutual funds, stock broking houses, money transfer/ remittance companies, etc. With continuous investments in technology, all of its services are offered on a robust technologically advanced platform.
The bank's vision is to be a sound and dynamic banking entity providing financial services of excellence with pan-India presence. It aims to develop a range of quality financial services and products to create value for customers, shareholders and the society; to motivate people to achieve excellence in performance leading to sustained profitable growth and build a vibrant organization.