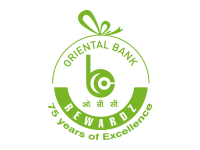 OBC
About OBC:
About Oriental Bank Rewardz
Oriental Bank Rewardz" is Bank's Loyalty program that has been designed to encourage customers to start using and continue to use electronic or digital initiatives of the bank through Internet banking, Mobile Banking, UPI, debit card etc. rather than visiting the branch. Each product/delivery channel covers varied rewards points credit methodology. Such rewards can be reimbursed by purchasing different kinds of merchandise or service through specially designed website and mobile app for the same. As an Oriental Bank of Commerce customer, all the customers (Savings bank) are on-boarded on Oriental Bank Rewardz program within 2 working days of account opening and shall be awarded with reward points for their spends through Debit Card, Internet Banking, Mobile Banking & UPI/BHIM within 2 working days of transaction
About Oriental Bank of Commerce

Oriental Bank of Commerce was founded on 19 February 1943 in Lahore. It is headquartered in Gurugram, India and has around 2700 branches across India.