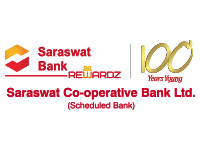 SARASWAT
About SARASWAT:
About Saraswat Bank Rewardz
Saraswat Bank Rewardz an enterprise wide loyalty program designed for Saraswat Bank customers. In keeping with our ethos of 'customers first', this program is aimed to provide a rewarding experience throughout the banking journey. Currently, our program offers Reward Points for transactions made with the Saraswat Bank Credit Card. These can then be redeemed for a variety of products & services
About Saraswat Bank:
Marching parallel to the evolving timeline of India, Saraswat Bank enters into its 100th year of service to the people. After setting sail in the year 1918, soon after the Russian revolution, the Bank has witnessed important world events like the First World War, Second World War, India's freedom struggle and the glorious post independence era. Standing the test of time, it has grown to be a pioneer in the urban co-operative banking sector in India, offering unparalleled financial services.
Towering above its competitors and growing soundly for a century, Saraswat Bank today is spread across six states – Maharashtra, Goa, Gujarat, Delhi, Madhya Pradesh and Karnataka. With a total business of Rs.58,000 crore plus, 280 plus branches, and 260 ATMs, the Bank is committed to taking its legacy ahead with outstanding service.